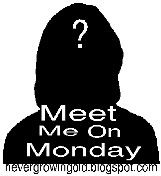 It has been a while since I've joined in on Meet Me on Monday. It is always so much fun to let people get to know a little bit more about me and to get to know others. Here are a few little tidbits about me that I'm sure you couldn't make it through your week without knowing....j/k
Questions:
1. What is your favorite kind of cheese?
I'm actually really funny about cheese. I only like cheese if it is on pizza, broccoli and nachos, oh and broccoli and cheese soup..yum, my favorite.
2. What size is your bed?
My bed, one of my favorite places to be is a nice king-size bed with a great pillow-top mattress. We have to have a king-size bed because someone sleeps like a crazy person...I won't name names(me).
3. What is your most overused phrase?
I have so many overused phrases that it is so hard to pick just one. If I can choose just one I guess it would be...."are you serious(ly)?" I tend to always ask that question; knowing full well if they are serious or not.
4. Green or purple grapes?
Growing up all we ever ate were green grapes but now I am in love with seedless purple grapes. They are a lot sweeter than the green grapes and we all know how I love my sweets.
5. Shower, morning or night?
It sometimes depends on my work schedule but I usually like to bathe in the morning. It helps me to wake up and start my day.