Whew!!! I've made it to the final day of the in
Back 2 Blogging Challenge by SITS!! I've been having a good time re-uploading some of my post and looking at other SITS member's post.
There is a chance for me to win Thelma and Louise pictured below. How awesome is that?!? Make sure you check out the sponsors of this great challenge
Standards of Excellence
,
Westar Kitchen and Bath
, and
Florida Builder Appliances
,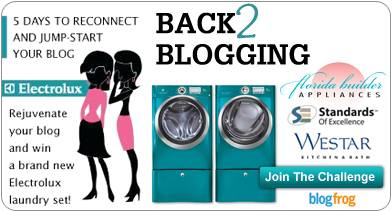 Day 5:W
rite about what blogging means to you. Why do you blog? What purpose does it serve you and how have you benefited from sharing a piece of yourself online this way?
Why do I blog? That's a good gosh darn question. I knew nothing of the blogging world until my good friend at Adventures in the Land of Little Choo Choos started her blog. I instantly became an avid reader of her blog; constantly waiting for the next post to be published. Then it hit me; "Hey why don't I start one?" I had no idea what I was getting myself into. I just wanted to write and be able to share my thoughts with other like-minded people.
The day that I created my blog; I was so proud of myself. I published my first post and went to work to tell everyone about it. They are laughed me off and asked why I thought that I was so interesting that people would want to read about me. I was crushed and intent on shutting my blog down when I got home that night. When I started it was not because I thought I was special. I wanted to allow my friends and family to be able to keep up with my family. I also needed another outlet. I'm pretty sure that the people at work without kids got tired of me talking about breastfeeding, poopies, and pull-ups.
I'm glad that my nay-sayers did not talk me out of continuing my blog. I have 'met' a lot of really great people and I have learned so much from them. I even created a second blog about my journey into makeupland. Some of the blogs that I have been introduced to are so flipping hilarious, some are very insightful and helpful. There is such a range of blogs out there. Blogging has re-ignited the creative side of my brain that has been asleep for so long. It has also helped me to open up a little and challenged me to improve my writing.
I'm glad I started this blog and look forward to where this might lead...