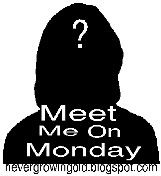 Questions:
1. Do you wear socks to bed?
I feel completely naked if I don't have my socks on. It drives my husband crazy...but guess what? He will get over it...lol
2. Do you have any pets?
I have a 5-year old Jack-Russel Terrier. She was my first child. She was so spoiled before my husband and me real daughter came around. Now she is constantly tormented by Kyla on a daily basis.
3. What topping(s) do you like on your pizza?
I'm a pretty simple girls when it comes to my pizza....cheese, cheese and more cheese please. Every once in a while I will be wild and add mushroom to my pizza.
4. What time do you go to bed?
Oh man, that is the question of the century. It depends on when I can get off work. Most day I work night shift and don't get home until 1 or 2AM. So my bedtime is usually around 3AM (Yawn!)
5. Would you rather get free chocolate for one year or free potatoes forever?
This is what my staff got me for my birthday...so I think you all have the answer to this question