We've made it over the hump and now things get a little harder in
Back 2 Blogging Challenge by SITS!! I've been having a good time re-uploading some of my post and looking at other SITS member's post.
There is a chance for me to win Thelma and Louise pictured below. How awesome is that?!? Make sure you check out the sponsors of this great challenge
Standards of Excellence
,
Westar Kitchen and Bath
, and
Florida Builder Appliances
,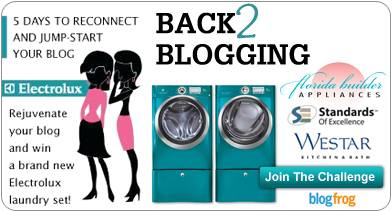 Day 5: Write about a woman that inspires you
I have been trying to come up with the perfect person to write about all week. Well, as I was driving home from work last night it hit me. There is only one woman that truly inspires me....My Mom!
I know what you are thinking...what a typical thing to say. Well most people will say that their mother inspires them but that's usually on Mother's Day and other major holidays. My mom inspires me on a daily basis. Now don't get me wrong; my mom and I have never had the perfect relationship. We have had our share of fights and arguments (who hasn't). That doesn't change the fact that she is my mom and I love her.
Let me tell you a little about my mom. My mom married her high school sweetheart shortly after high school, and age 27 she gave birth to my brother Brian. Three years later she gave birth to yours truly and put her career on hold to be a stay at home mom to my brother and I. She was married to my father for 20+ years (I lost track). My mom and I are complete opposites other than our looks. I was the tomboy that hated pink,dresses, or anything girly and my mom was miss prissy (think Claire Huxtable meets Reese Witherspoon in Legally Blonde).
We went through some very tough times as a family when my parent went through their divorce. My mom was a rock through it all and never let her faith be shaken. My mom had to start all over from scratch and she done everything that she has ever set out to do.She taught me that nothing was impossible when she went back to school and earned her Master's Degree. My mother has done everything from an aid to a state representative, be an equestrian store owner, doing voice overs, and now writing children's books. She went back to teaching which was her first. She even won Teacher of the Year in 2009.
It has always been my mom's level of faith that has inspired me. I know that it was her constant prayers that helped me to be the person that I am today. When I got in to my near fatal car accident in 2001 my mom rushed to the hospital in the middle of the night sans makeup ( my mom never leaves the house without at least her lipstick). Unfortunately I was not conscience and don't remember it, but I would have paid someone a lot of money to get a picture of that. I honestly don't think I would have made it if it was not for her praying over me that night.
Most people dread becoming like their mothers and I can admit that I have felt that way. Now with everyday that goes by; I can see myself becoming more and more like my mom. Who would have thought that I would like makeup, love the colors pink and purple, and be a shoe fanatic? I see myself turning into my mother....and you know what? I'm glad!!